Frequently asked questions
When do you deliver?
---
We typically deliver on Wednesdays and Fridays. The cut off for Wednesday delivery is Tuesday 12pm (mid-day). The cut off for Friday delivery is Thursday 12pm (mid-day). However, If you urgently need us to deliver on a different day, call the store and we'll do our best to figure something out.
---
Can I shop in store and is it safe?
---
Yes, if you're local to us and would like to visit us in store, we are located at 1/69 Kalang Rd, Elanora Heights NSW 2101. We are open: Monday – Friday: 8am – 6pm
Saturday: 8am – 2pm
Sunday: 8am – 12pm We operate as a Covid Safe Business in line with NSW Government Restrictions. Vistors may choose to sign in using the QR code, use hand santiser provided, and wear a face mask while in the store. Please be aware that due to some of our staff having medical issues (hard of hearing) you may be asked to remove your mask briefly at times to communicate if neccesary. However, we strive to put the health and wellbeing of our customers first at all times.
---
How much is delivery?
---
Our delivery charges are between $10 and $20 depending on the distance from the store. Please put your postcode in at the checkout to see what the delivery charge is to your area. If you're unsure how to do that, please check the video below. If your order is over $250, we offer free delivery.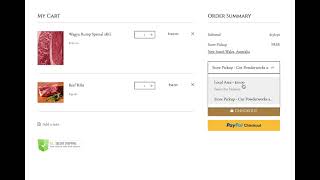 ---
Which payment methods are accepted?
---
We accept paypal and credit card payment. If you wish to pay with an alternative method, please contact us.
---
How secure is shopping online? Is my data protected?
---
Your data is secured using global standard encryption. Shop with confidence that your details are protected while using the site.
---
What exactly happens after ordering?
---
After ordering, you will receive a confirmation email with an attached tax invoice, you'll then receive your order on the upcoming delivery date.
---
Do I receive an invoice for my order?
---
You will recieve an invoice for your order to the email that you have used for your account.
---
Where do you deliver?
---
At the present time we deliver to the following areas: Elanora Heights / Ingleside / Warriewood - $10 local delivery. Northern Beaches (excluding Manly) - $15 delivery. Manly, North Shore, Hills District (Eastern Side Only), Ryde, Canada Bay, Balmain Penisula - $20 delivery. If your order is over $250, delivery is free! We aim to deliver within 2 working days, as our deliveries are done on Wednesday and Fridays. For local customers we can organise same day or next day delivery if required. If you are unsure on whether we deliver to you, please put your postcode in at the checkout and our system will let you know right away!
---
Can I collect in store (click and collect)?
---
Yes, we offer the ability to collect from our store in Elanora Heights. Just select "Store Pickup" at the checkout, and we will contact you to let you know when your order is ready. Please ensure you abide by all rules in place when coming to collect in store. We advise that you check the latest guidance on the NSW Government Website before ordering. Alternatively, you can collect your order at either Orange Grove or Mosman Markets. Please check the contact us page for further details. Please leave a note in the order, or message us afterwards if you plan to collect your order at the markets.
---
Where can you deliver to?
---
We are able to deliver to all the following postcodes within the whole of the Greater Sydney Area: Sydney, 2000 Sydney South, 2000 The Basin, NSW, Australia Enfield South, 2133 Rose Bay North, 2030 Hmas Rushcutters, 2027 Bankstown Aerodrome, 2200 Boronia Park, 2111 Melrose Park, 2114 Glendenning, 2761 Shalvey, 2770 Kellyville Ridge, 2155 Emerton, 2770 Llandilo, 2747 Plumpton, 2761 Quakers Hill, 2763 South Penrith, 2750 Telopea, 2117 Old Toongabbie, 2146 Woodcroft, 2767 Werrington, 2747 Hassall Grove, 2761 Willmot, 2770 Emu Plains, 2750 Lethbridge Park, 2770 Huntingwood, 2148 Penrith, 2750 Parklea, 2768 Girraween, 2145 St Marys South, 2760 Mount Druitt, 2770 Carlingford, 2118 Wentworthville, 2145 Mount Druitt Village, 2770 North St Marys, 2760 Winston Hills, 2153 Tregear, 2770 Riverstone, 2765 Parramatta, 2150 Colyton, 2760 Rydalmere, 2116 Stanhope Gardens, 2768 Whalan, 2770 St Marys, 2760 Kellyville, 2155 Werrington County, 2747 Prospect, 2148 Minchinbury, 2770 Cambridge Park, 2747 Toongabbie, 2146 Oatlands, 2117 Claremont Meadows, 2747 Leonay, 2750 Dundas Valley, 2117 Werrington Downs, 2747 Seven Hills, 2147 Hebersham, 2770 North Parramatta, 2151 Dharruk, 2770 Doonside, 2767 Kings Langley, 2147 Oakhurst, 2761 Penrith South, 2750 Rooty Hill, 2766 North Rocks, 2151 Shanes Park, 2747 The Ponds, 2769 Castle Hill, 2154 Denistone, 2114 St Marys East, 2760 Colebee, 2761 Jamisontown, 2750 Dundas, 2117 Rouse Hill, 2155 Westmead, 2145 Lalor Park, 2147 Marsden Park, 2765 Dean Park, 2761 Emu Heights, 2750 Oxley Park, 2760 West Pennant Hills, 2125 Camellia, 2142 Kings Park, 2148 Ropes Crossing, 2760 Cranebrook, 2749 Glenwood, 2768 Toongabbie East, 2146 Kingswood, 2747 Denistone West, 2114 Northmead, 2152 Pendle Hill, 2145 Cambridge Gardens, 2747 Schofields, 2762 Marayong, 2148 Arncliffe, 2205 Alexandria, 2015 Surry Hills, 2010 Rockdale, 2216 Birchgrove, 2041 Vaucluse, 2030 Peakhurst Heights, 2210 Bonnet Bay, 2226 Haberfield, 2045 Jannali, 2226 Chiswick, 2046 Bellevue Hill, 2023 Campsie, 2194 Croydon Park, 2133 Balmain East, 2041 Banksia, 2216 Burwood North, 2134 Strathfield, 2135 Beaconsfield, 2015 Belfield, 2191 Tamarama, 2026 Coogee, 2034 Eastgardens, 2036 North Bondi, 2026 Kingsford, 2032 Rushcutters Bay, 2011 Eastlakes, 2018 Kogarah, 2217 Darling Point, 2027 Bronte, 2024 Clemton Park, 2206 Moore Park, 2021 Randwick, 2031 Camperdown, 2050 Blakehurst, 2221 Enmore, 2042 Balmain, 2041 Breakfast Point, 2137 North Strathfield, 2137 Turrella, 2205 Port Botany, 2036 Allawah, 2218 St Peters, 2044 Zetland, 2017 Homebush South, 2140 Russell Lea, 2046 Kareela, 2232 Lakemba, 2195 Port Hacking, 2229 Burwood Heights, 2136 Homebush, 2140 Bexley North, 2207 Yowie Bay, 2228 Kyle Bay, 2221 Concord West, 2138 Ramsgate, 2217 Elizabeth Bay, 2011 Mortdale, 2223 Dawes Point, 2000 Lilyfield, 2040 Burwood, 2134 Hurlstone Park, 2193 Watsons Bay, 2030 Strathfield South, 2136 Daceyville, 2032 Carlton, 2218 Dover Heights, 2030 Sutherland, 2232 Kangaroo Point, 2224 Forest Lodge, 2037 Bardwell Park, 2207 Beverley Park, 2217 Canada Bay, 2046 Caringbah, 2229 Padstow Heights, 2211 Cronulla, 2230 Gymea Bay, 2227 Hurstville Grove, 2220 The University Of Sydney, 2006 Wolli Creek, 2205 Edgecliff, 2027 La Perouse, 2036 Bondi Beach, 2026 Woolooware, 2230 Eveleigh, 2015 Pyrmont, 2009 Leichhardt, 2040 Bondi, 2026 Oatley, 2223 Summer Hill, 2130 Rhodes, 2138 Glebe, 2037 South Coogee, 2034 Woolloomooloo, 2011 Dulwich Hill, 2203 Sans Souci, 2219 Hurstville, 2220 Sydenham, 2044 Clovelly, 2031 Taren Point, 2229 Miranda, 2228 Pagewood, 2035 Wareemba, 2046 Millers Point, 2000 Darlinghurst, 2010 Bondi Junction, 2022 Lilli Pilli, 2229 Chifley, 2036 Woollahra, 2025 Paddington, 2021 Tempe, 2044 Dolls Point, 2219 Mascot, 2020 Peakhurst, 2210 Chippendale, 2008 Rodd Point, 2046 Homebush West, 2140 Phillip Bay, 2036 Penshurst, 2222 Petersham, 2049 Waterloo, 2017 Five Dock, 2046 Kingsgrove, 2208 The Rocks, 2000 Waverley, 2024 Kyeemagh, 2216 Point Piper, 2027 Bardwell Valley, 2207 South Hurstville, 2221 Ultimo, 2007 Malabar, 2036 Concord, 2137 Roselands, 2196 Petersham North, 2049 Potts Point, 2011 Lewisham, 2049 Ashbury, 2193 Marrickville, 2204 Grays Point, 2232 Little Bay, 2036 Wiley Park, 2195 Kirrawee, 2232 Drummoyne, 2047